Archive for September, 2012
A great time was had by all who attended this year's barbecue at the Hiller on Sun. Sept. 30, 2012.
Nearly 100 meals were served. The food was fantastic and included ribeye steak, salmon, chicken, shrimp, baked beans, potato and green salads, cold drinks and dessert.
If you couldn't make it this time, plan on attending next year. You're sure to enjoy yourself.
The highlight of the event was the presentation of a plaque to Casey Giddens, in honor of his service as Air Traffic Manager and who first started on the ATC staff at KSQL in 1996. Casey is moving on to a new assignment in Arizona. We wish him the best and hope he enjoys the weather and the new challenges in his career. We appreciate everything he has done to keep all of us safe at San Carlos Airport.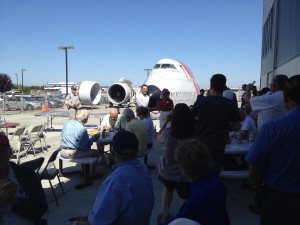 Congratulations to Curt Nehring who coordinated the event and thanks to everyone who lent a hand, including the folks who displayed their aircraft and the crew who prepared the food, as well as everyone else who helped out, including the setup team and the cleanup group. Volunteers included Herb Patten (food prep. and during the event), Cass Wilson, John Rohrer, Joe Lascola, Bob O'Sullivan, and Bill Warner.
We are especially grateful to Jeff Bass, Willie Turner, Lanie Agulay and Adam Villa at the Hiller Museum.
We'd like to thank our chefs, Frank Alaimo, Ken Steiner and Bruce Wallace. They made our day. Also, thanks to Tim Foley for lending his large gas BBQ grill that made it possible.
We'd also like to thank Jerry Grainger who coordinated the aircraft display this year. He spent many hours laboriously contacting folks.

Several friends from EAA Chapter 20 at San Carlos Airport helped getting planes in and out of the display area: Irwin Abrams and Roland Chenoweth.
Aircraft exhibitors included:
1976 Cessna 177B Cardinal – Bob Leuten
1952 Cessna 195 – Bruce Norris
1946 Globe Swift – Bill O'Connell
Christen Eagle – Butch Pfeifer
Rans Coyote 2 – (LSA) – Roland Chenowith
1954 Cessna 195 – Oliver Coolidge
Kit fox – Bruce Estes
RV 6 A – Mike Cunneen
Thanks again and see you all next year!
thanks to Herb Pattern for the photos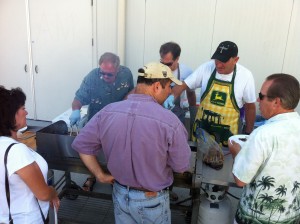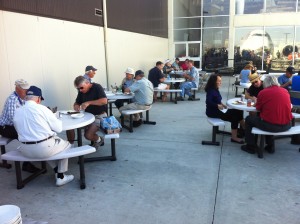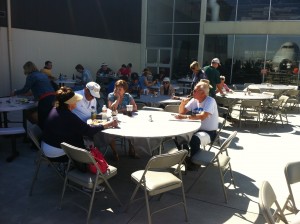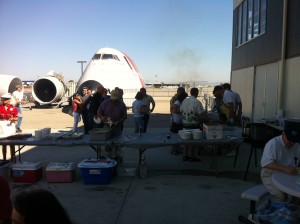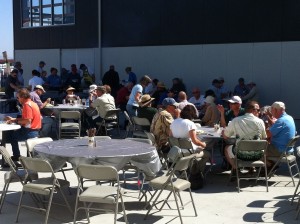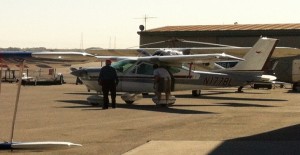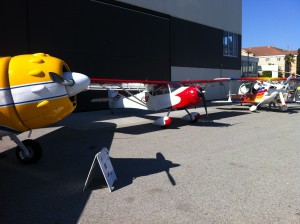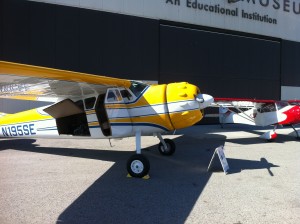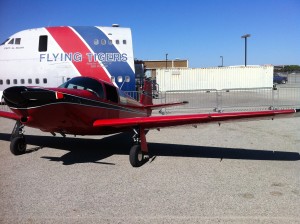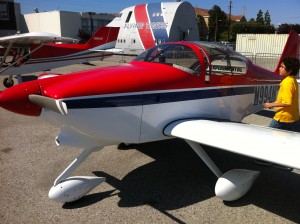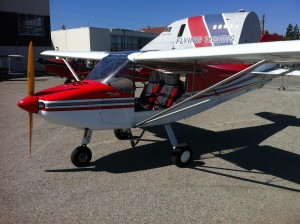 Please enjoy the following photo of the Space Shuttle Endeavor as it flew over San Carlos Tower on Sept. 21, 2012 while on the way to its final resting place at the California Science Center in Los Angeles.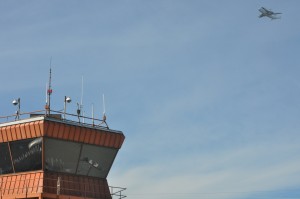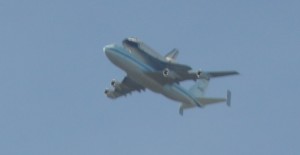 Space to Land and Land to Space
Virgin Galactic CEO George Whitesides
Announced as Keynote Speaker

CalPilots' 2012 Annual Meeting happens October 19-21 at world-famous Mojave Air and Space Port…and it's an event you do not want to miss.
This event isn't just an event – it is an outstanding weekend of many events for those who love aircraft and spacecraft.
This is an historic opportunity brought to you and your friends by the California Pilots Association.
This is an opportunity for you to meet and map the nascent but maturing civilian space industry – at the most concentrated center of such ventures in the world, our own Mojave Air and Space Port!
This is an opportunity to encounter the forward thinking, the sometimes wobbly but courageously entrepreneurial leading edges of aviation, with the quiet or not so quiet heroes of today – the current Glen Curtisses, the current Howard Hugheses, the current Christopher Crafts, even a few of the current Neil Armstrongs of the world – who live and work and are achieving on the edge of human knowledge …right now…today…our aviation and spacecraft history is being made in Mojave.
Help spread the word! Send this message to your friends. And come join us! Whether you are a CalPilots member or not, our Mojave annual meeting will be a unique and memorable experience – a truly enjoyable weekend for all pilots and aviation or space buffs.
Click here or go to www.calpilots.org to register and get all of the details. See what you're in for below! And bring your friends!
"MEET US IN MOJAVE!" and you'll hear from the real "Next Generation" of space pioneers in cutting-edge ventures such as:
XCOR Aerospace, builders of the commercial reusable Lynx spacecraft www.xcor.com
Orbital Sciences: a tour of "Stargazer" L-1011/100 Pegasus launch vehicle www.orbital.com
Firestar Technologies: advanced maneuvering rockets and power systems www.firestar-tech.com
Keynote Speaker George Whitesides, CEO, Virgin Galactic www.virgingalactic.com
National Test Pilot School – the only civilian test pilot school in the world www.ntps.edu
General Atomics on Unmanned Aircraft Systems (UAS) in civilian airspace www.ga.com
Perlan Project to fly a glider to record-challenging near-space 90,000 foot MSL perlanproject.org
Mojave Museum's own Plane Crazy Saturday fly-in and static displays www.mojavemuseum.org
Additionally, discounted sailplane flights in high-performance gliders with instructors from Southern California Soaring Academy will be available for pilots and would-be pilots! Reserve your spot for these flights now!
CalPilots has made special arrangements for local lodging at the Mariah Country Inn and Suites. We recommend you come in Friday and stay through Sunday; but you can fly-in early and fly-out late Saturday after the banquet, if you prefer. All of the details, including registration, are available at this link.
Space is limited – so register today both with CalPilots …and at the Mariah Hotel for Friday and Saturday nights! We'll have a "Meet and Greet" at the Mariah Friday evening and events through Sunday morning! Join us for the whole weekend, if you can!
The SCAPA Board of Directors is organizing our next barbecue on Sun. Sept. 30th from 11:30 AM to 2:00 PM. Be sure to save the date.
Like all our activities, we depend on volunteers to make them happen.
We need people to help with the following:
– food preparation on Sat. evening Sept. 29th
– setup starting at 10AM
– cleanup starting at 2PM
This is a great opportunity to meet other members of the Association. If you can help with any of these tasks, please contact Curt Nehring at cnehring@sbcglobal.net.
Admission to the BBQ is free for paid-up members. Guests (including spouses) are $10 each.
The menu this year includes salmon, steak, chicken, shrimp skewers, baked beans, green salad, potato salad, and dessert.
We also hope to have several aircraft on display. This is always a very popular event but it does take some advance planning. If you have an aircraft that you'd like to display, please send an email to webmaster@sancarlosairport.org.
In case you haven't attended a barbecue before, you can see the wrap-up from last year by clicking here.
TEMPORARY RUNWAY CLOSURE FOR CONSTRUCTION ACTIVITY AT THE SAN CARLOS AIRPORT

The San Carlos Airport runway and taxiways will be temporarily closed to all flight operations for construction work associated with South Bayside System Authority's (SBSA) new sewer line.
The airport will be closed during the period shown below:
• Tuesday, September 11th from 10:00 PM until 7:00 AM Wednesday, September 12th
PLEASE NOTE – The dates and times of these runway closures listed above are subject to change due to weather or other issues. Additional closures may occur as SBSA continues to construct their sewer line. Dates and times of any future closures will be provided as soon as that information becomes available. Please contact the San Carlos Airport Office at (650) 573-3700 if you have any questions. Pilots should verify all airport closure information by obtaining officially disseminated FAA NOTAMs prior to flight.