Archive for October, 2012
SCAPA is pleased to help publicize the following aviation-related event.

Kala Artist Project Space presents:
Lift, Weight, Thrust, Drag
A photography exhibit by Mr. Alexis M. Esguerra

Everyone is invited to a memorable opening Friday 30 November 2012 from 6-8pm, at 2990 San Pablo Avenue, Berkeley, California 94702. (510) 841-7000
Light refreshments will be served. Photographs will be available for purchase.

artist contact info: jetatrainer@yahoo.com
(707) 342-8422
alex-esguerra.artistwebsites.com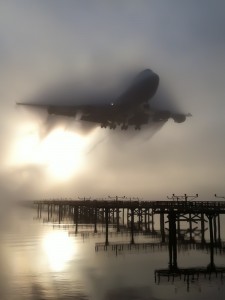 Aero Club Dinner
Ron Blake @CalPilots asked SCAPA to pass the word about this event.
The Aero Club of Northern California's Crystal Eagle Awards dinner is taking place on Friday, November 9th at the Hiller Aviation Museum. This year they are honoring Captain Julie Clark, famed aerobatic performer and former airline captain. Sandra Clifford, and her Aero Club team have been working incredibly hard to make this is a fantastic evening. We're very much looking forward to it and hope you can join.
The ticket for the Aero Club event is $75, which includes full viewing of the museum, dinner, drinks and the award ceremony.
Details here:
What: Aero Club of Northern California Crystal Eagle Awards Dinner honoring Julie Clark (Sandra Clifford, is President of this organization)
When: Friday, November 9th @ 6:30pm
Where: Hiller Aviation Museum at the San Carlos Airport
Tickets: $60 members & $75 non-members; http://www.aeroclubnorcal.org/CrystalEagle_Next.html
San Carlos Airport has a multi-year waiting list for hangar rentals. For those folks waiting for hangars, there are several other airports in the Bay area that have space available. We provide the following information as a service to anyone waiting for a place to store their aircraft at San Carlos. If you have any updates for this list, please send email to webmaster@sancarlosairport.org.
Hayward
Hayward Hangars is developing an airplane hangar project at HWD. The first building, which houses 18 42′ (wide) x 34′ (deep) box units, is now available for occupancy. The second building, with six 50′ (wide) x 40′ (deep) and six 50′ x 50′ box units, should be ready early 2014. Their website (www.haywardhangars.com) includes an artist's rendering and a site map. All units will have electric bi-fold doors, Wi-Fi, and T5 or T8 lighting. There will be ample private parking and two lavatories for the exclusive use of tenants. They have a few promotional offers for tenants.
Contact information:
Jim Altschul
Hayward Hangars, LLC
(888) 617 0300