Archive for July, 2017
The San Carlos Airport Association is happy to pass along an announcement of the new fire truck at San Carlos Airport (in service starting April, 2017). The following message from Chris St. Peter, Assistant Airport Manager, summarizes background for our new truck, shown below in photos from the manufacturer's web site.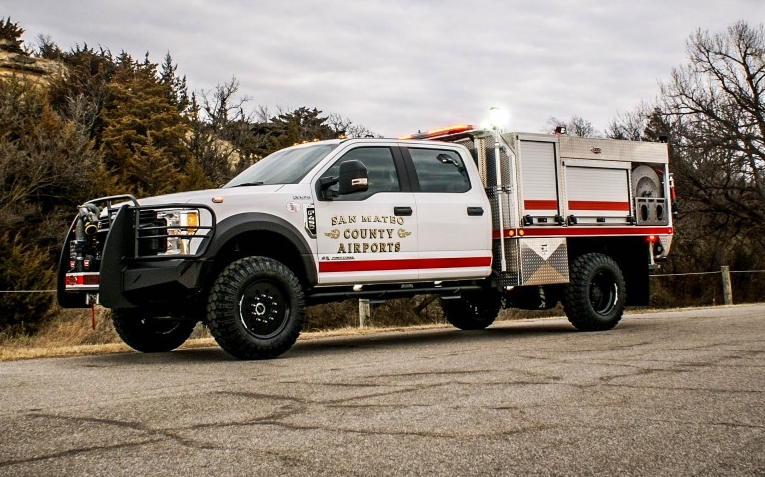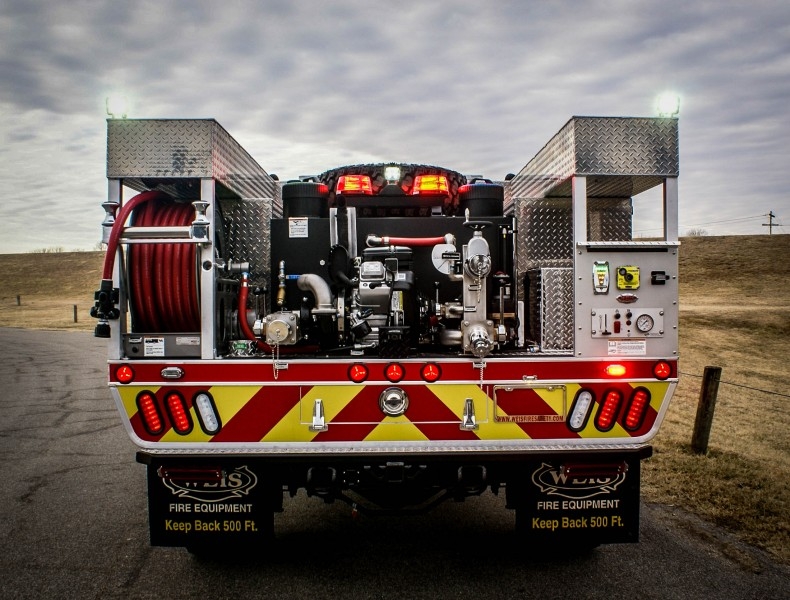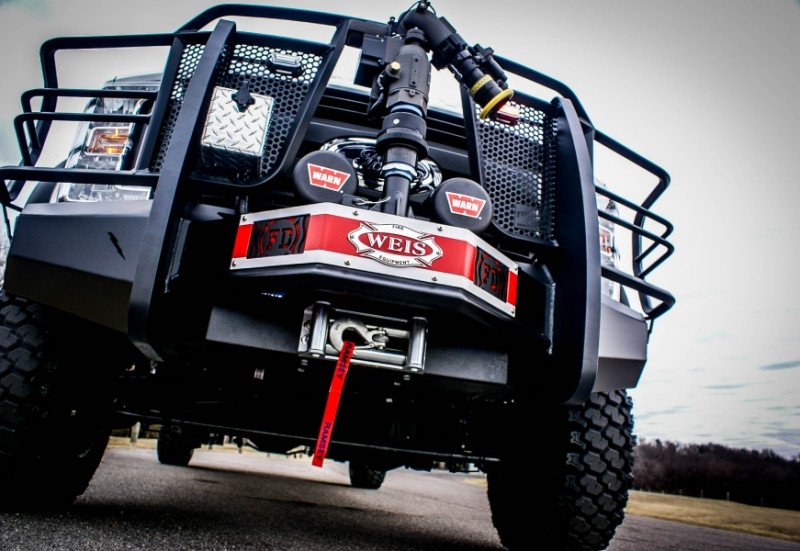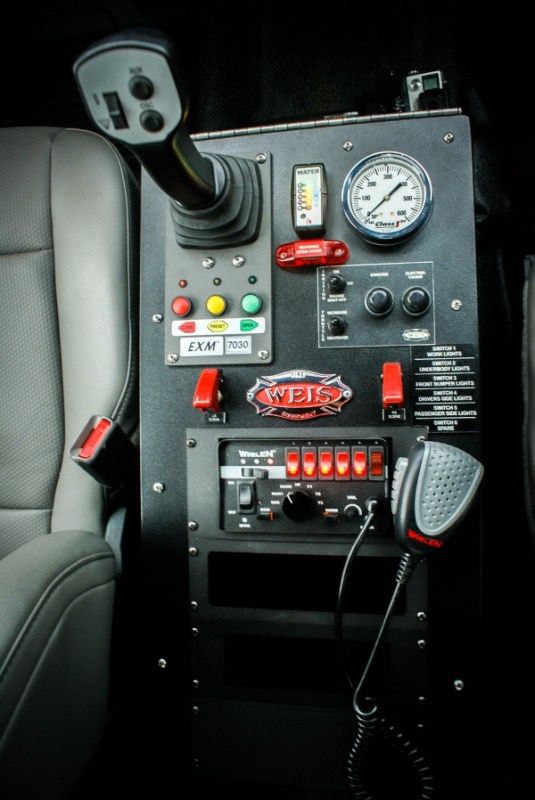 Our old Airport One for San Carlos and Half Moon Bay came online in mid-2002. 15 years is a long time for a fire truck. In fact, the FAA only expects airports to maintain grant-funded equipment for 10 years. We were starting to run into issues with finding spare parts and more often than not, we were finding that we needed to take it out of service for non-scheduled repairs.
Prior to ordering a replacement, Operations staff sat down and discussed what they liked about the existing truck and what they would like to see in the new vehicle. New technology has been introduced since the original Airport One was built and we wanted to make sure it was added to the new truck.
It's also important to remember that Airport One really is an all purpose vehicle. We use if for many things. Everything from responding to aircraft incidents, haz-mat response to towing trailers.
Some of the new features include:
*An Elkhart Sidewinder EXM Bumper Monitor – This allows staff to deploy water/AFFF (foam) while remaining inside the cab via a joystick-like control.
*A high capacity inverter for in-field use of power tools.
*An air compressor for inflating tires and other equipment
*LED scene lighting
*Larger cab for storage
*LOWER MAINTENANCE COSTS
We'll be looking to replace Half Moon Bay's truck this Fiscal Year. Additionally, we will likely take the two best parts of both old Airport Ones (the body of San Carlos truck and the bed/storage boxes of Half Moon Bay) and combine them into one truck so we have a backup truck for when one of the new trucks goes in for scheduled maintenance.
CalPilots is going to launch its first ever CalPilots EXPO in Paso Robles (KPRB) on October 13-14, 2017.
They will have a Wine & Food Reception on Friday, October 13 from 5-8pm. Mark Baker, President of AOPA will be there and conduct a townhall-like meeting and meet with everyone. The CalPilots Board Members will also be there.
On Saturday, there will be a pancake breakfast, followed by a State of GA in California by CalPilots President Corl Leach. The CalPilots Annual meeting will follow.
Fresh Cheesesteak lunch put on by Sutter County (O52) at noon, followed by an FAA Wings seminar by Brian Schiff on General Aviation Safety.
After that there will be 4 seminars; 2 for pilots and 2 for passengers. The Pilot seminars will include 1) Basic Med, and 2) Support You Local Airport. The Passenger seminars will be 1) A Flying Companion/Pinch Hitter, and 2) Fun Places to fly in the west.
There will be an Exhibit area and an Aircraft Static display area as well. Want to camp by your airplane, you can do that also.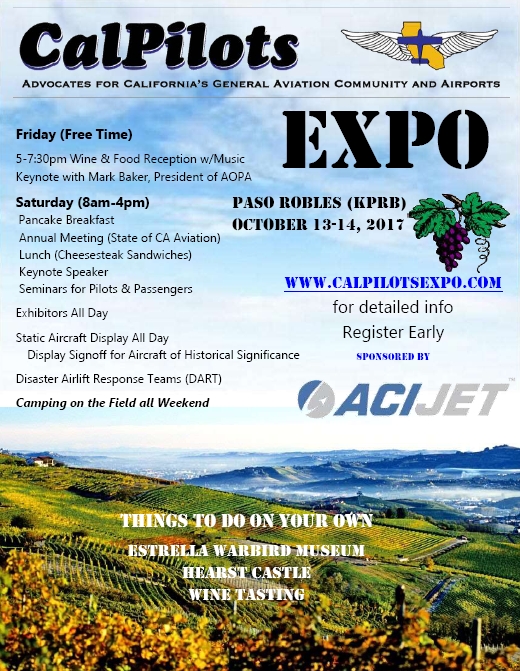 From the Alliance for Aviation Across America:
I write with a critical update. The big commercial airlines and private interests are lobbying hard for a bill introduced in Congress, by Congressman Bill Shuster (R-PA), which takes away Congressional authority over our air traffic control system and turns it over to a board of private stakeholders.
The "AIRR Act," or H.R. 2997, would hand over this vital infrastructure to private stakeholders, resulting in more endless taxes and fees on consumers, and emboldening the airlines to further cut off access to rural communities. That is why business leaders, rural and agricultural groups, Mayors across the country and the majority of Americans all oppose air traffic control privatization. But this is a critical time, Congress will consider this legislation in the coming weeks.
Tweet at Congress and tell your leaders to oppose the AIRR Act's hand out to private interests!
Write to Congress and tell your leaders to oppose the AIRR Act's hand out to private interests!
We need your help now more than ever–please lend your voice by contacting Congress via email and Twitter, and tell your Representatives to oppose H.R. 2997, the AIRR Act.
With your help, we can ensure that Congressional oversight of our air traffic control system remains in place, and prevent this big, corporate giveaway to the airlines and other private interests.
Thank you.
Selena Shilad
Executive Director
Alliance for Aviation Across America
connect with us
Facebook
Twitter
paid for by the
Alliance for Aviation Across America
unsubscribe
Alliance for Aviation Across America
1025 Connecticut Ave NW, Suite 1000
Washington, DC 20036
United States