We are pleased to announce that Carol Ford, President of the San Carlos Airport Association, received the prestigious Michael A. Shutt Award on Sept. 13, 2019 at the Annual Conference of the Association of California Airports in South Lake Tahoe, CA.  
Carol took her first ride in a small plane when she was 12 years old and has been hooked on flying ever since.  She originally took lessons at Phoenix Field in Fair Oaks, California, and earned her Private Pilot Certificate.  Phoenix Field is now a housing development.  Carol later moved to Fremont and flew out of the small Airport along the bay which is also now closed.  When she moved to Redwood Shores, under the pattern of San Carlos Airport, she was determined that would not happen to other airports. 
Carol was awarded the Airport Defender of the Year by the California Pilots Association in 1997.  She now serves as President of CalPilots; a Director of the CalPilots/ACA Political Action Committee; AOPA representative for San Carlos Airport;  President of the San Carlos Airport Association;  and Past Chapter Chairperson, International Organization of Licensed Women Pilots.  Carol has also founded Ford Aviation Consultants, now Ford & Associates LLC, dedicated to ensuring airports receive funding they deserve.
Carol has been a member of ACA for a number of years and has been instrumental in the development of the annual California Aviation Day event.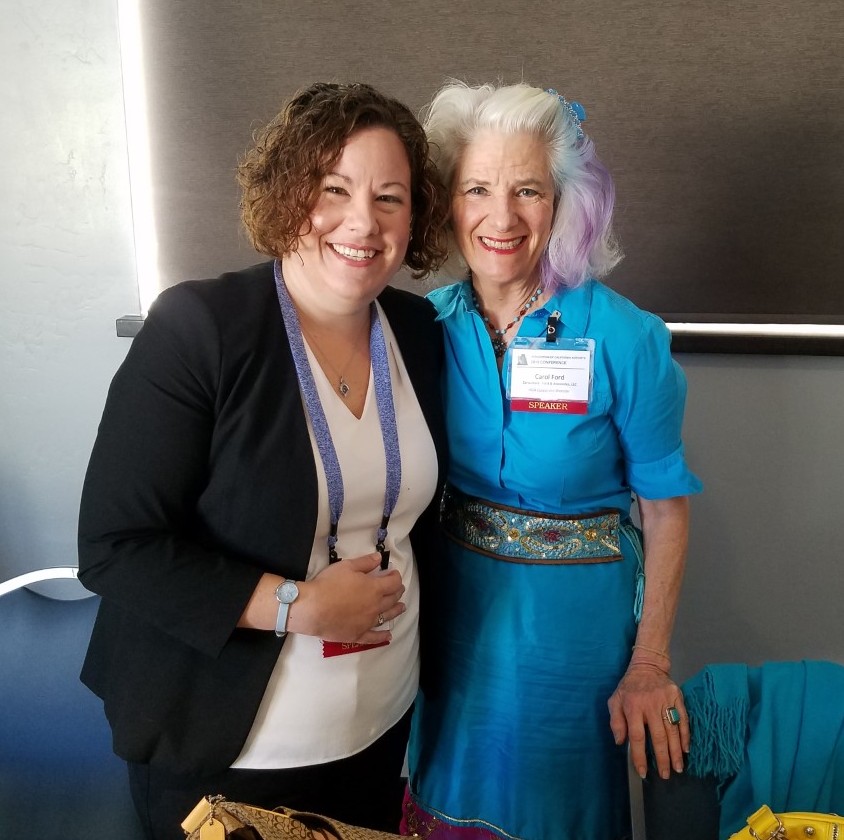 Amy Choi, Caltrans Division Chief of Aeronautics, with Carol Ford at the 2019 Conference of the Association of California Airports.
ACA's Michael A. Shutt Award annually recognizes an individual or organization that has made a significant contribution to the growth, development and general safety of California airports. Mike was one of the founders of ACA and the Board has recognized those efforts by gifting an annual award on his behalf to industry professionals.
The Michael A. Shutt Award is designed to recognize the efforts of an individual or organization that has made a significant contribution to the growth and development of California airports. Qualified applicants can be consultants, airport sponsors, Funding agencies, and all other associated professionals working to improve and develop of California Airports. Individuals and organizations that have been nominated for the award will be evaluated against criteria that include:
Recognized as a leader in the aviation industry.
Known for employing innovative techniques in the solution of complex issues and problems.
A reputation for enhancing the relationship between airports and the community.
A contributor to the knowledge base of the industry.
Developed tools or techniques that have furthered the aviation industry.
Past Michael A. Shutt Award Recipients
2012 – John Pfeifer, former FAA Western Pacific Regional Manager
2013 – Mary Hansen, Manager, Yuba County Airport
2014 – Reinard Brandley, Consulting Airport Engineer
2015 – Mark Bautista, Deputy General Manager, Monterey Peninsula Airport District
2016 – Harry Krugg, Manager Colusa County Airport
2017 – Leander Hauri, Airport Manager, City of Livermore 
2018 – Herman Bliss, Manager of Airports Division, FAA Western Pacific Region, retired