Looking for a new challenge in small-plane flying? No, not aerobatics—pulling excess G's is not everyone's idea of fun. I'm suggesting a mountain flying course from an experienced mountain flying instructor. There are several experienced mountain flying CFI's here at San Carlos Airport who are qualified to teach it. However, I took my course from a customer of mine who lives in Fort Collins, Colorado, and we flew the course in the granddaddy of all North American mountain ranges, the mighty Colorado Rockies!
Before I took the course, I was filled with trepidation. I've been a flatland flyer for all of my 36-years of flying experience. Oh, I've landed at Lake Tahoe, Truckee, Reno, and Las Vegas but that kind of experience hardly qualifies one as an experienced mountain flying pilot. I used to look at a sectional or WAC chart and unless the basic terrain color was either green or light green, I would generally plan to stay away, fly around, or fly over. Way over!
Actually, I took the course twice: The first time was flown in the northern Rockies in July 2000, and the second time was flown in the southern Rockies in July 2001. I must say, both courses were among my most memorable aviation experiences! Each part involved a full day of flying (always on a VFR flight plan), beginning with a 6 a.m. breakfast and lunch at one of our landing sites. Each day of flying involves landing at least a six different airports, none of which involve "standard" traffic patterns. Most of the airports necessitate landing in one direction and taking off in the opposite direction. You learn that unless the wind is unusually strong (over 15 knots) you should land uphill and takeoff downhill.
My instructor for both courses was Gerald Eberhard, an engineer with Hewlett Packard in Fort Collins, Colorado. "Jer" is not only a high-time mountain flight instructor and volunteer FAA Aviation Safety Counselor, but also is a glider instructor—a skill that is very useful for this type of flying. He is also active with the Civil Air Patrol as a Mission and Aircraft Check Pilot. He keeps current with students seeking all single-engine ratings and certificates. Jer estimates that he has provided mountain training flight courses such as the ones I took at least 125 times. He has never been involved in an accident. As we flew, Jer provided a constant dialog naming all the peaks, cities, passes, and ridges within sight of our route. Of course I was not familiar with the territory and this made me feel very comfortable that we'd make it home even if my Denver sectional chart blew out the window and all my radios suddenly failed to function.
Jer's truly a professional and is as knowledgeable a flight instructor as I've ever flown with! In 2001, Jer charged a flat $260 (plus meals) for his full day of instruction. (You can expect to pay more in future years.) In addition, you pay a nominal charge for the course outline if you do not attend the Colorado Pilots Association (CPA) ground school. Even though he is a part time instructor, you can take the course during the regular work week in which case Jer will either take a day of vacation or assign you to one of the many other CPA-approved mountain flying instructors.
The CPA Mountain Flying Course meets the provisions of paragraph 7. g. of FAA Advisory Circular 61-91H. This qualifies you for "Wings" (the
FAA Pilot Proficiency Award Program) and thus satisfies the requirements of a Biennial Flight Review.
What can you look forward to in taking a course like this? First and perhaps most important, is a thorough review of the basics of VFR flying:
Aircraft control, navigation using a sectional chart, weather, and emergencies—"Okay, you just lost your engine, WHERE ARE YOU GOING TO LAND?" (There aren't as
many options in mountainous terrain as we have here in the flatlands!) Second, a real appreciation of density altitude and how it affects a light plane. Third, you will be treated to, literally, a bird's eye view of some of the most majestic, breathtaking landscapes, and scenery on earth!
My recommendations on who should take this course: You should be current with at least 200 hours total flight time. Student pilots: Get your Private license and some more experience first. If possible, plan the trip to Colorado with other pilots who are also going to take the course.
The training takes all day and starts early in the morning before the late afternoon cloud buildups limit your flying. If two pilots travel in one plane you can not only share the expenses of the trip but one of you can fly one day while the other can rent a car and see the sites in the area. The Rocky Mountain National Park would be first on my list. If you are into big time rodeos, plan your trip during the last two weeks of July when Frontier Days is the big summertime event at Cheyenne, Wyoming. Note: If you are serious about attending Frontier Days, be aware that you need to make your room reservations MONTHS in advance! The Fort Collins Downtown airport (3V5) where I flew into has full services and is located on the Cheyenne sectional chart. 3V5 is about 50 NM south of Cheyenne and 50 NM northwest of Denver. There's a Best Western Hotel located half-a-mile away.
The type of plane in which this course should be taken: You need something more on the order of a Cessna 182, Cherokee 235/236, or any plane that qualifies under the FAA definition of "high performance" (over 200 horsepower). Check with your mountain flying instructor if you're planning to take the course in a 180- or 200-h.p. Mooney or in an Arrow, Sierra, or a Cardinal. If you'd like to take the course in a Cherokee 140, Cessna 152, Cessna 172, or a Katana, FORGET IT! The plane need not be turbo-charged. In fact, you will gain more from your mountain flying course if your plane is not turbo-charged and if you take the course in the summer when density altitude has it most profound effect on a normally-aspirated engine. I took my course both times in a Cessna Cardinal RG with a 200 h.p. non-turbo-charged engine. For better performance while flying the course, the plane was loaded to ten percent below maximum gross weight—not an easy task when you consider the added weight of my oxygen bottle and survival kits for two of us!
Time and patience: Plan several days if you are going to take the course in Colorado Rockies. You may encounter weather delays getting there, taking the course and/or getting home. Both times I took the course I lucked out and experienced no cancellations or delays due to weather. Plan to take the course in the summer if you want to get the full experience that density altitude has to offer.
Preparation: Don't underestimate the effects that high altitude will have on you. You need to be well rested and in good physical condition when you take the course. I strongly suggest you consider bringing supplemental oxygen. You will enjoy the experience more and not be as exhausted from the trip and the training if you use it. Also, it is very easy to become dehydrated so plan to have plenty of drinking water available.
The effects of altitude are usually felt immediately upon arriving in the mountains. All exercise is harder work at first. It is normal to experience heavy breathing, rapid heartbeat, fatigue, headache, nausea, or insomnia. (Smokers will experience these symptoms more than non-smokers.) At high altitude, each breath takes in only 70 to 80 percent of the oxygen you are accustomed to getting at sea level.
You can minimize the effects of high altitude by drinking lots of water, avoiding alcohol, eating light, high-carbohydrate meals, increasing physical activity gradually, and rest when tired.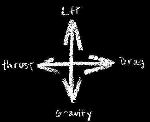 The Basics: As I mentioned, plan on relearning the basics. GPS and Loran-C aren't much help in mountain flying. Even if you have the sophisticated type GPS that show terrain elevations, you'll still need to navigate the old-fashioned way (pilotage and ded reckoning) to get where you're going in the mountains. Days before you begin the course, your instructor will give you the names of the airports you're going to navigate to. Due to terrain and weather, few if any can be flown to in a straight line. You can bet that you won't fly the course exactly as planned due to weather, winds, and other unforeseen circumstances. We had to avoid landing at one airport because campers had set up their tents all along the centerline of the runway!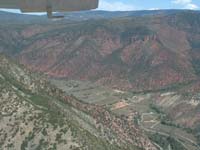 You'll learn the proper method of flying in canyons (not in the middle as you might guess but on the side in order to be able to have enough room to turn towards lower terrain in an emergency). You'll also learn and practice the proper way to cross a ridge (at a forty-five degree angle, not head-on, again, in order to give you adequate room to turn towards lower terrain in an emergency). You'll learn and practice takeoffs and landings from high altitude airports. (Use the same indicated airspeed as you would at sea level—your ground speed will be higher.) You'll learn the proper method to make a full-power, pre-takeoff for adjusting your mixture for maximum power. And finally you will learn and practice the two basic premises of mountain flying:
Always remain in a position where you can turn towards lowering terrain, and
Never fly beyond the point of "no return."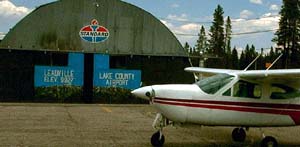 One of the most memorable airports I visited on my year 2000 course was Leadville, Colorado (Lake County Airport—LXV), elevation 9,927 feet. It is the highest elevation airport in the continental United States. The day we visited Leadville we stopped for lunch. The used the airport "crew car" to go into town. By the time we returned to the airport, the outside air temperature was nearly 80 degrees Fahrenheit, yielding a density altitude of about 12,500 feet! For our takeoff we used the "70-50 Rule." As you taxi out for takeoff, note the point on the runway that is 50% of the runway length from either end. On your takeoff roll, if you have not achieved 70% of your flying speed by the time you pass the 50% point, you abort the takeoff as you probably won't make it. (In that case, you lighten the load or wait for better winds and temperature.) The takeoff roll in the Cardinal RG seemed to take forever but we clearly had exceeded 70% of flying speed at the halfway point and we did manage to lift off and climb out successfully. I purchased a souvenir coffee mug to memorialize my successful visit to Leadville.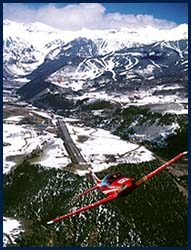 The highlight airport for my 2001 course was Telluride, Colorado (Telluride Regional—TEX), where we also stopped for lunch. Again we used the FBO's "crew car" to go into town. Even if you don't get to fly a plane into Telluride, this is a quaint, picturesque town you shouldn't miss. The summers feature art, music, and other cultural events and the winters have some outstanding snow skiing opportunities. The Telluride airport is like none I'd ever experienced. The route getting there is very round about because of the extremely high mountains in the area. Unless the winds are unusually strong, you approach from the West and takeoff towards the East. The 6,870 foot runway (at an elevation of 9,078 feet) is built in a bowl with either end being about 150 feet higher than the middle! This can provide for some very deceptive visual clues both when landing and taking off! The takeoff can be especially tricky: You start going downhill but shortly after you liftoff and begin to build speed in ground effect, the runway starts rising to meet you again! The rule is that you abort the takeoff if your wheels touch the ground on the uphill portion of the runway—you'll not likely get safely airborne a second time.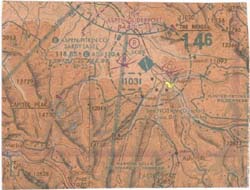 Another memorable airport was Aspen, Colorado (Aspin-Pitkin County/Sardy Field—ASE). Never have I seen in one ramp such a collection of large multi-million dollar business jets! Falcons, Challengers, and Gulfstreams were parked wingtip to wingtip. The small collection of Lear Jets and King Airs were dwarfed by comparison!

Have I whet your appetite for mountain flying? The Colorado Pilots Association (their web site is http://www.coloradopilots.org) has a Mountain Flying – High Elevation Airport Operations Ground School course on Saturday, September 8, 2001, at Garfield County Airport (RIF), Rifle, Colorado. You have plenty of other options if you cannot take this ground school. My instructor provided me with the course outline which I found most useful. In addition, there are two terrific books you can pick up at most any aviation bookstore: First is Mountain Flying (Revision 2) by Sparky Imeson and second is Mountain Flying Bible and Flight Operations Handbook, also by Sparky Imeson. Of course there are many other great books on this subject.
Before I took the course I'd always felt that mountain flying in a single-engine airplane was inherently dangerous. Now I'm convinced that the danger lies only if the pilot doesn't understand the limitations of his aircraft and hasn't had the training and experience of some good mountain flying instruction.