Mary Caroline Nehls DeMartini
10/26/1930-01/10/2017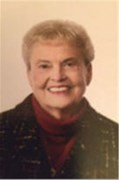 Mary Caroline Nehls DeMartini beloved wife of 66 years to James G.B. De Martini, Jr. died peacefully in her sleep 01/10/2017. She was the daughter of the late Captain and Mrs. Frederick E. Nehls, and the granddaughter of Carnegie Silver Medal Winner Captain George Henry Zeh. She was born and raised in Ancon, Panama and came to the United States in 1947 to attend Notre Dame High School, followed by the College of Notre Dame, Belmont. She was a favorite of her school and retained close loving relationships with her classmates and the Sisters of Notre Dame for the rest of her life. Her wit, generosity and kindness were hallmark characteristics. She was a long standing benefactor to Notre Dame de Namur's Alumni Association.
Mary's knight in shining armor and co-pilot in life was her best friend and husband Jim. They managed to raise a large family, travel the world, and learn to fly planes together laughing and loving through an entire lifetime. Mary is survived by Jim and their six children James G.B De Martini III (Linda), Richard M. De Martini (Jennifer), Mary Pamela Jitloff (Alex), Frederick "Murph" De Martini (Laurie), Patricia Mc Bride (Dr. Joseph Scott Mc Bride, deceased), Marjorie Ann Kinne (Remson IV). Mary's six children blessed her with nineteen grandchildren and numerous great-grandchildren, all of whom brought a sparkle to her eye and gave her tremendous joy over the years.
Mary will be fondly missed as a community activist. She founded and chaired many organizations over the years donating countless hours to El Camino House Organization, American Women's Volunteer Organization, Peninsula Hospital Auxillary Association and Pals for Palsy.
A Rosary to honor Mary will be hosted by Crosby N. Gray, 2 Park Road, Burlingame, CA 94010 on Friday January 20th, 7:30 PM.
Services are scheduled Saturday January 21, 2017 11:30AM, Cunningham Memorial Chapel. Notre Dame De Namur University, 1500 Ralston Avenue, Belmont, CA 94002.
Private cremation to follow.
In lieu of flowers donations to the Mary Nehls DeMartini Endowment are preferred. Notre Dame De Namur University, 1500 Ralston Avenue, Belmont, CA 94002.
Published in San Francisco Chronicle from Jan. 18 to Jan. 20, 2017 – See more at: click here