The San Carlos Airport, serving the community in its present location since 1948, is operated by the Department of Public Works of the County of San Mateo. It is currently home to approximately 460 general aviation planes which are owned in approximate equal numbers by 1) Individuals, 2) Businesses, 3) Flight Schools and 4) Flying Clubs and other multi-owner organizations. In all, approximately 2,500 area pilots fly aircraft that are based at San Carlos. Many thousands more planes operated by other individuals and businesses visit this airport every year. Small wonder! This community is surrounded by a viable economy where other modes of ground-based transportation are crowded to the limit!
The runway is 2,600 feet long and can accommodate most piston-powered planes and several models of turbo-prop business aircraft. Planes with a maximum gross weight in excess of 12,500 pounds are prohibited from using San Carlos Airport.
A voluntary noise abatement procedure is in use at San Carlos Airport.
The air traffic control tower at San Carlos Airport provides services to pilots 14 hours per day, 365 days per year. In 1998, San Carlos generated 154,000 aircraft "activities." (An activity is a landing, a take off or touch-and-go–a training maneuver.)
San Carlos Airport is a small part of the national airport system that involves 600,000 aircraft and 2,000 airports nationwide.
The airport is located next to the Bayshore Freeway (U.S. Highway 101) in San Carlos, adjacent to the Holly Street off ramp on the bay side of the freeway. This airport has been in its present location since 1948. Before that, it was on the opposite side of the freeway further south, where Best Buy is now located.
The airspace around San Carlos Airport is a complex maze of restricted flight corridors involving not only San Francisco International Airport but at least a dozen other busy airports in the San Francisco Bay Area. The existing San Carlos traffic pattern, noise abatement procedure and approach / departure paths are part of a very elaborate system that makes up San Francisco Bay airspace plan.
Air Traffic control services, including frequencies and a phone number for after hours contact with clearance delivery are listed on the KSQL Chart Supplement.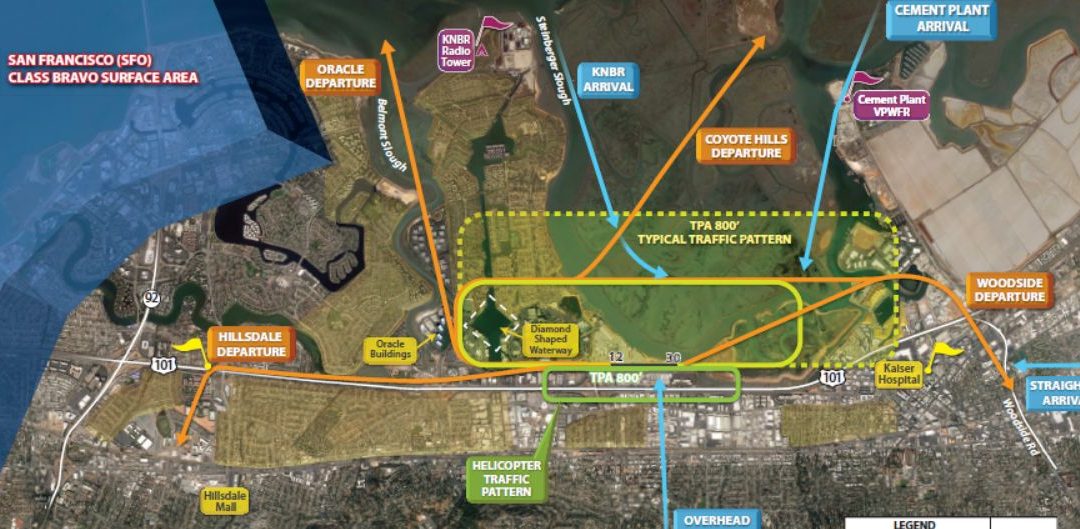 For your information, the Airport's summary of the voluntary noise abatement procedures, effective at the beginning of August, 2019, is shown below. The same information is also available on the Pilot Resources link. RUNWAY 30 DEPARTURES Hillsdale Departure Fly...