Hiller Aviation Museum, 601 Skyway Road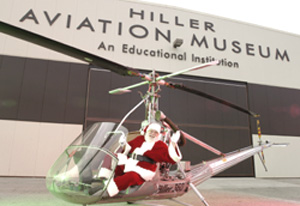 On Saturday, December 4th, the San Carlos Chamber of Commerce's Annual Santa Arrives by Helicopter event will be held at the Hiller Aviation Museum at 601 Skyway Road in San Carlos.
9:30 am to 10:30 am – Music by West Bay Community Band
10:00 am – Noon Santa's arrival and visits; refreshments from Bianchini's Market; children will receive a candy cane and coloring book from Kindercourt Schools.
Noon – 2:00 pm Escort by fire truck and police to Santa's house – Bank of America Lot, 760 Laurel Street and children visit with Santa. Santa returns to his house. Every Saturday through Dec 19th.
For more information, contact the San Carlos Chamber of Commerce at (650) 593-1068.