Santa Rosa, Calif. – Sonoma County pilot Malvika Matharoo in partnership with The Valley of the Moon Teen Center Girls' Circle and North Coast Air, Inc. launched, "Take to the Sky," a program designed to encourage young women to pursue their dreams, in November 2009. The program offered the winner of an essay contest an opportunity to soar over the Sonoma County coastline for an introductory flight, followed by lunch with Matharoo. After a motivating talk with the girls about their goals and the 500-word essay contest, the program made its inaugural flight with the three winners.
The winners of the essay contest from the teen center were Diana Bucio, Miriam Tinoco and Diana Bernardino. They flew with Matharoo on a private flight along the beautiful California coast, donated courtesy of North Coast Air, Inc. "It was an opportunity for them to see firsthand what they can achieve if they choose," said Matharoo.
Matharoo, a minority and female pilot from Punjab, India, was inspired to start the program to show young women that they too can achieve their dreams including the predominantly male field of aviation. Less than 10% of all pilots are women and even smaller percentages are minorities. Matharoo graduated with top honors from the University of North Dakota (UND) in 2007 with a degree in Aviation Management.
"I want to show young women to never settle for less than they deserve in life. If you pursue your dreams, you can do anything you wish. By providing these young women with the opportunity to fly with me, I hope to show them that if I can make my dreams come true, so can they," said Matharoo. "None of the young girls ever flew in a private plane. One of the girls never flew before at all. I hope the experience will be a springboard to their success in life."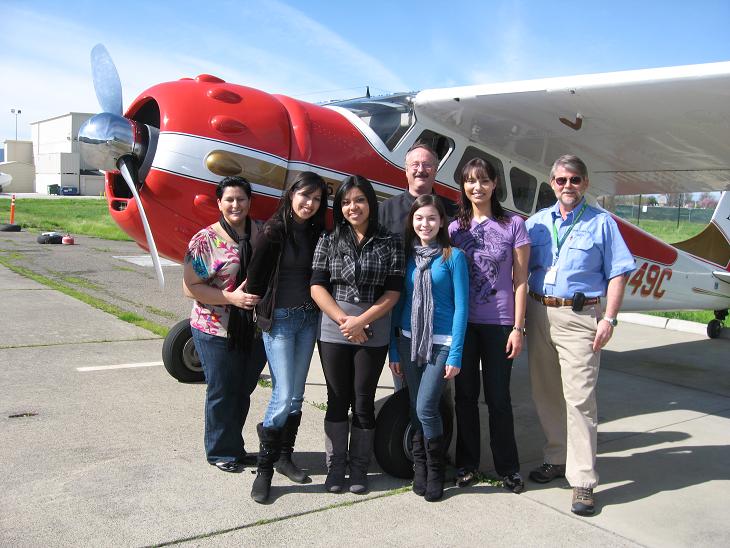 "This experience made me realize there are no boundaries for the teens we serve, as big as the world is and as many opportunities as there are, they are achievable and attainable especially with the support of mentors, family and an overall community of people willing to help our youth transition into adulthood," said Rebecca Hermosillo, Director of The Valley of the Moon Teen Center.
North Coast Air, Inc. is Sonoma County's leading airplane flight training center and full-service flight school owned by Rob Clark and NAFI Master CFI, Art Hayssen. For more information contact North Coast Air, Inc. at (707) 542-8687.
Contact Info:
Malvika Matharoo
Petaluma, CA 94954
(707) 364-2579